Kathie MacDuff

Kathie MacDuff is an artist, graphic designer, and journalist who captures her artistic passions within her signature program, Creative Journaling. For the past 27 years, she has been teaching creative journaling as well as courses in watercolour, mixed media, and a wide assortment of paper arts including book binding.

She is the Expressive Arts Team Lead at Wellspring Alberta where she's been a regular facilitator offering many and varied courses over the past fourteen years in person and on Zoom.

She was a forerunner instructor with the Tom Baker Cancer Center leading to the establishment of their Medicine in Art initiative and was involved with a year-long research program with the Primary Care Network Pain Clinic studying the effects of creativity on pain and depression.

She facilitated classes at the Good Shepherd Art Studio in Calgary since its inception in 2006 to 2022 and is a regular guest instructor and speaker at many retreat and conference centres throughout Alberta and British Columbia. Most recently, she relocated to Sorrento Conference and Retreat Centre in British Columbia where she is the Associate Director, overseeing Expressive Arts programming amongst other things. She was happy to discover the Blind Bay Painters and has become a member.

Her vision is to facilitate creative experiences that encourage connections, validate emotions, and nourish the soul. She finds fulfillment of these goals thanks to the wonderful people she gets to hang out with!

Trudy Boyle

Trudy Boyle, author of the book, Ikigai and Illness: A Guide to Living Fully with Purpose, Meaning, and Joyful Moments has been studying, writing, and teaching the principles of Living with Illness, for three decades. Current Director of the ToDo Institute's initiative on Living Fully with Illness, she continues to serve a broad digital community of people living with illness through weekly webinars and blog posts, online and residential programs, and as a regular contributor to the Thirty Thousand Days Quarterly. She is a former program director of Wellspring Alberta, a large community-based Cancer Resource Centre

and continues to play an active role in this community. The love and joy of this work along with her many adventures with her grandchildren is her ikigai – a reason to get up in the morning.

Trudy loves cycling, photography, learning, exploring, celebrations and being useful. She lives in Ottawa, Canada.

Weekly blog: https://livingwellwithillness.com/blog/
Date
Wednesday April 12, 2023
Expired!
Getting to know Trudy Boyle
FREE Online Speaker Series with program leaders at Naramata Centre
In partnership with Naramata Centre, we are privileged to attract inspiring and exceptional program leaders from across Canada with a diversity of backgrounds.
We invite you to take this opportunity to meet Trudy Boyle, author of the book, Ikigai and Illness: A Guide to Living Fully with Purpose, Meaning, and Joyful Moments, and learn about her upcoming course, "Living Fully with Illness"
Are you interested in taking part in Trudy's next program? Click here to put your name on the waiting list.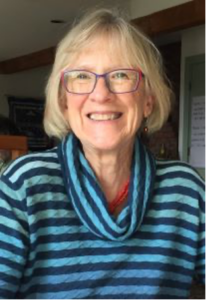 Trudy has been studying, writing, and teaching the principles of Living with Illness, for three decades. Current Director of the ToDo Institute's initiative on Living Fully with Illness, she continues to serve a broad digital community of people living with illness through weekly webinars and blog posts, online and residential programs, and as a regular contributor to the Thirty Thousand Days Quarterly.
She is a former program director of Wellspring Alberta, a large community-based Cancer Resource Centre and continues to play an active role in this community. The love and joy of this work along with her many adventures with her grandchildren is her ikigai – a reason to get up in the morning. Trudy loves cycling, photography, learning, exploring, celebrations and being useful. She lives in Ottawa, Canada.